The long-awaited Longhua Costco Galaxy Project is expected to be completed in early 2025, and the Costco mall will open in early 2023, Yao Huiqiong, vice chairman and president of Galaxy Holding Group, told Shenzhen Daily in an exclusive interview Friday.
Costco Wholesale Corp., the world's second-largest retailer, and Galaxy plan to build a megamall and a South China head office in Longhua District.
"The Shenzhen government is pushing forward the project at a 'Shenzhen-style Tesla speed,'" said Yao.
Yao Huiqiong. Courtesy of Galaxy Holding Group

By "Shenzhen-style Tesla speed," Yao refers to the faster-than-usual approvals the project has won from the authorities.
"The project has gained strong support from the development and reform commission, the planning and land resources bureau, the commerce bureau, and other government agencies of Longhua District."
Washington-based Costco signed a cooperation agreement with Galaxy in August last year. In the signing ceremony, Yao disclosed the project's estimated investment of 9 billion yuan (US$1.38 billion), including a foreign investment of US$200 million. Half a year later, the two enterprises jointly purchased 43,928.35 square meters of land in Longhua District to construct a super CBD as a home to three headquarters, a Costco outlet, an international hotel, fine-dining restaurants, and other service facilities.
A computerized-generated image of the Longhua Costco Galaxy Project.

The project was included in the 2020 Shenzhen's Major Project list. The list is approved by the city government and was announced by the municipal development and reform commission to recognize local construction projects with significant investment.
By press time yesterday, the foundation construction was already in progress, including required surface cleaning and earth-rock excavation and backfill.
What Costco values most is not only Shenzhen's administrative efficiency, but also its consumption potential. "Costco's settlement of its first South China flagship store in Shenzhen meets the market demand, as well as the development needs of the city. The project can bring economic and social benefits," said Yao.
Shenzhen's consumer market has warmed up despite the pandemic. The municipal bureau of statistics' latest data show that the total retail sales of consumer goods in Shenzhen reached 866.48 billion yuan last year. The Shenzhen government has taken a slew of measures to stimulate consumption, such as issuing digital vouchers of millions of yuan. The city climbed from No. 7 to No. 5 in the 2020 Top 10 Cities by Total Retail Sales ranking in the country, according to the 21st Century Economic Institution. However, its gap with Guangzhou is still apparent, where total retail sales volume was 921.87 billion yuan in 2020.
As to upmarket development, Shenzhen lags behind other major Chinese cities like Beijing, Shanghai and Hong Kong in terms of the number of upscale shopping sites offering world-class goods and services. Three years ago, the city declared its goal of constructing itself into an international consumption city. The 2020 Report on the Work of the Shenzhen Government indicates that Shenzhen plans to speed up the cultivation and development of the strength of consumer spending.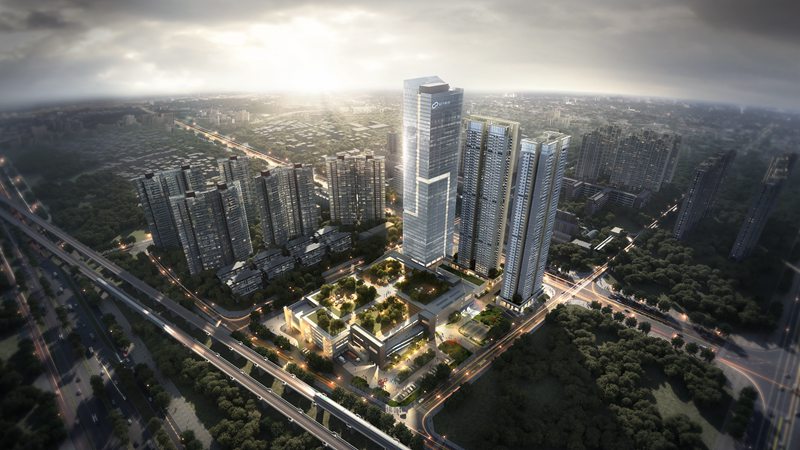 Costco arrived at the city with perfect timing. "The anticipated average annual imports and exports for the project will reach approximately US$700 million. It can help Shenzhen's building as an international consumption city," said Yao. Shenzhen Economic Daily reported that the project will attract more than 1,000 upstream and downstream firms worldwide to expand to Shenzhen.
The discount warehouse club chain has presented its astonishing appeal to Chinese consumers. In 2019, China's first Costco store opened in Shanghai. It had to shut down five hours after opening on the first day due to the high number of visitors. The outlet accumulated 200,000 members in the first month. Within two years, Costco has announced plans to open four new flagship stores across China.
The cooperation between Galaxy and Costco started as early as 2018. The two enterprises bought land in Pudong New Area last year to build Shanghai's second Costco store. "The marriage between Galaxy and Costco in both Shanghai and Shenzhen, two cities with the most developed and energetic economies in China, presents a high degree of mutual trust and recognition," said Yao. "In the future, we will continue deepening our collaboration to enable Costco to open flagship stores in more cities and areas in China."
On the other side, some in the retail industry expressed concerns about the intense competition Shenzhen's Costco could face. Its planned location in Minzhi Subdistrict is only 4.2 kilometers away from the Longhua branch of Sam's Club, the U.S. membership-only retailer owned by Walmart. The latter set up its first outlet in Shenzhen in 1996, and its Futian mall has been Sam's Club's top-selling store around the globe for 12 consecutive years.
Founded in 1988, Galaxy is a Shenzhen-based investment group engaged in the integration of real estate, finance, industry, commerce and property. The enterprise has developed many landmarks in Shenzhen, such as CocoPark in Futian District and Galaxy World in Longgang District.
Adopting the concept of industrial alliance, Galaxy World is a representative of Galaxy's integrated management model. It contributed an average annual output value of 30 billion yuan and an average annual tax revenue of 3 billion yuan.